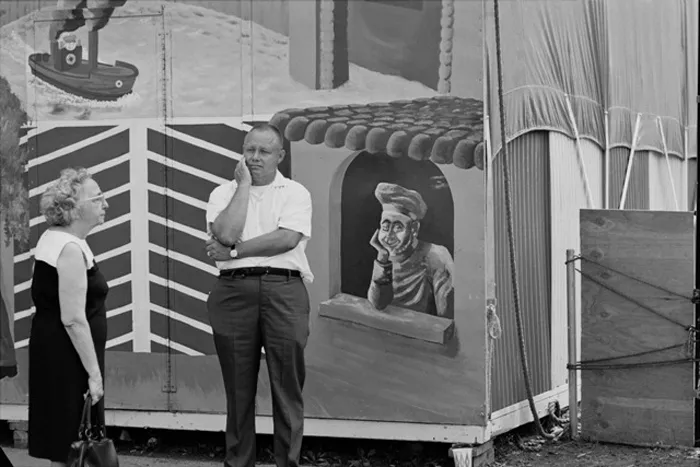 CANVAS: 313: PHOTOGRAPHY SHOW
To celebrate Detroit's big 313th birthday this summer, the Detroit Artists Market has gathered nine photographers who turned their lenses on the Motor City. Exhibiting photographers include Kresge Eminent Artist Award-winner Bill Rauhauser as well as up-and-comers, and many of the photographers will be present for a gallery talk with show curator Gary Eleinko at 11 a.m. on Saturday, June 28. The Detroit Artists Market is located at 4719 Woodward Ave., Detroit; more information available at detroitartistsmarket.org or by calling 313-832-8540. The show runs until July 12.
CANVAS: VANITY & SETTLE
Two art shows are currently on display at Re:View Contemporary Gallery. Jeweler and mixed-media artist Tiff Massey has created a body of work titled Vanity, inspired by traditional regal African hair-styling and '80s hip-hop jewelry. Viewers are invited to touch and wear the jewelry to experience the transformation in self-perception that jewelry provides, and multifaceted, gem-like mirrors designed by Massey offer a literal opportunity for self-reflection. Meanwhile, painter Dennis Hayes IV's Settle ponders the "re-settling" of Detroit by mixing textures of urban decay and nature with bold, metallic, geometric shapes, juxtaposing the natural with the constructed. Both shows run until July 4, at the Re:View Contemporary Gallery, 444 W. Willis St., Detroit; see reviewcontemporary.com for more information or call 313-833-9000.
CANVAS: BANANA!
This lighthearted show has a narrow subject that has yielded a surprising diversity of different artistic interpretations: the banana. More than 20 artists offered their take on the iconic yellow fruit, from paintings, drawings, and installations. The show, co-curated by Alice V. Schneider, Megan Frye, and Mariah Dallas, runs through June 28, at the Public Pool, 3309 Caniff St., Hamtramck. Gallery hours are 1 to 6 p.m. on Saturdays; more information available at 313-405-7665 or facebook.com/publicpool313.
STAGE: (A) PLAY WITH YOUR FOOD
This offbeat puppet show, aimed at both kids and adults, tackles current issues pertaining to food and the "universal experience of eating." The play mixes bizarre and comical puppets with concepts such as food politics, urban gardening, and nutrition. Produced by the Small Change Theater, the play is on the road locally and available for booking: Contact [email protected] for more information.
STAGE: YOU NEVER KNOW
Based on the play By Candlelight by Geyer, Fraklas, and Katscher, this Cole Porter-scored musical is set in Paris in 1929 and tells the story of a baron and a butler who agree to switch identities so the butler can romantically pursue a woman he believes to be of a much higher class. The production runs until June 22, at Meadow Brook Theatre, 207 Wilson Hall, Oakland University, Rochester; call 248-377-3300 or check out mbtheatre.org for showtimes.
Got an upcoming art or theater event? Send an email to Lee DeVito.