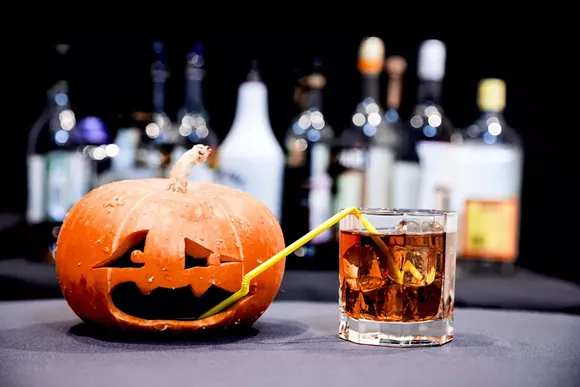 Oct. 21
Mega 80's Halloween Spooktacular
@ The Magic Bag
Grab your shoulder-padded dresses, brick phones, and satin shirts! It's time for the Mega 80's Halloween Spooktacular, which is easily the best '80s party around. The Mega 80's will be playing crowd favorites, with scenes from classic teen horror films playing on the screens. It's going to be totally rad.
22920 Woodward Ave., Ferndale; 248-544-1991; themagicbag.com
Oct. 21 - Nov. 6
Dracula
@ The Hilberry Theatre
Bram Stoker's classic Dracula is getting the stage treatment at Wayne State's Hilberry Theatre. A staple in Halloween lore, Dracula is a story that remains enigmatic a century later. In this production directed by playwright Charles Morley, the tale of the Transylvanian Count and his spine-tingling hunt of Jonathan Harker, his fiancé, and his friends comes to life.
Tickets range from $25-$30, and are $10 with a student ID.
4743 Cass Ave., Detroit; 313-577-2972
Oct. 21-22
Halloween
@ Main Art Theatre
Nothing says Halloween quite like Halloween. Seriously though, Jamie Lee Curtis' pre-Activia career has been studded with many gems, but this classic, John Carpenter horror flick will always stand the test of time. It's showing for two days at Main Art Theatre, so don't miss your chance to see it on the silver screen.
118 N. Main St., Royal Oak; 248-542-5198; landmarktheatres.com
Oct. 22
Zombie Nerf Attack
@ William G. Milliken State Park
and Harbor
To create hype for his latest film Zombies, independent filmmaker Hamid Torabpour is attempting to organize the largest Zombie Nerf Attack and make it into the Guinness Book of World Records. It's a two-hour game, where players rotate as the living and the undead every 20 minutes, so that everyone gets the chance to do both. You'll have to purchase a weapon there so that they know you're not sporting some super tricked out Nerf gun. Those 16 and older can participate as long as they're accompanied by an adult.
Registration is $100. The game begins at 6 p.m.
1900 Atwater St., Detroit; 507-676-2531; zombiesthemovie.com
Oct. 22
Dub Down's Halloween Bash
@ Works Club & Grill
With headliners Ray Volpe, London Nebel, and Nasty Nasty, Dub Down's Halloween Bash is going to be quite the extravaganza. In addition to the headliners, the event will feature 13 local acts.
Tickets are $10 in advance and $20 at the door.
1846 Michigan Ave., Detroit; 313-961-1742