Swampfoot 4 Mile
, St. Clair
Saturday, 7/9
Not to be confused with Swampbutt (you runners know what we're talking about), the Swampfoot 4 Mile is a competitive race that involves over 45 obstacles, real obstacles, like
military-style
obstacles. Swampfoot will test your endurance, guaranteeing the fact that participants will leave the run wet, cold, and probably covered in mud. So if you love misery, this one's for you! Bring a friend cuz you know what they say! Registration starts at $55. Some of the proceeds will benefit Liberty Riders Inc. and the Lone Survivor Foundation.
Hess Lake Run for A-T
, Newaygo
Saturday, 7/16
The Hess Lake Run supports the A-T Children's Project. A-T, or Ataxia-Telangiectasia, is a genetic disease most commonly found in children that causes loss of muscle control as well as issues with their immune systems. The Hess Lake Run prides itself on supporting this cause, allowing runners to "run for the children who can't." In addition to the family fun 5k, there's a 10k and a half-marathon, and each route takes participants around the beautiful Hess Lake. Registration for the 5k starts at $25, the 10k starts at $45 and the half marathon starts at $70.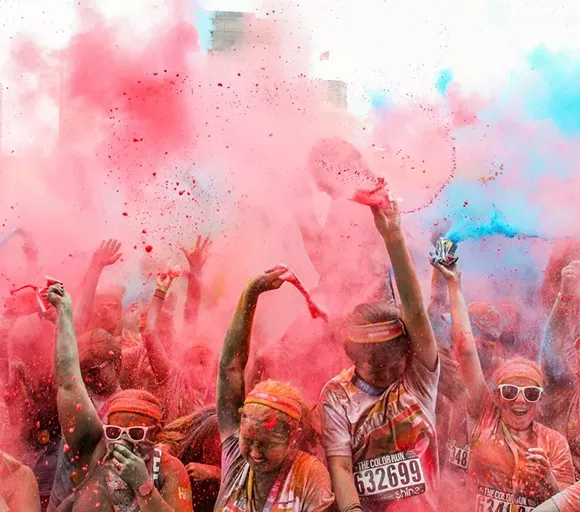 The Color Run
, several locations
Various dates
Known as "The Happiest 5k on the Planet," the Color Run is the lovechild of running and paintballing. No, there aren't paintball guns involved, but colored powder is thrown at participants throughout the track. Grab your most colorful outfits or start off with a white t-shirt. Either way, you'll leave with a lot more color in your life... and on your clothes. Warning: this shit takes forever to get off of you, but you'll probably have some cool Instagram photos. Ticket packages start at $44.99.

Tri to Finish TEAM One Wine Walk/Run
, Bad Axe (yes, that is an actual Michigan city)
Friday, 7/22
An event that is part of the city's Hatchet Festival, the 5k is for the wine lovers out there. A pretty relaxed run, the Wine Run is the 5k for those who want that tiny dose of exercise in their lives and get rewarded for it with a glass of wine. The run starts at 6 p.m because who doesn't want to run and drink wine on a Friday night? Registration starts at $28. Proceeds benefit the Huron County Relay for Life.
The Jingle Run
, Ann Arbor
Saturday, 7/23
Celebrate Christmas in July with the original Christmas in July 5k. Created to celebrate the Christmas season without the icy winds and snow-covered streets, the Jingle Run is a family-friendly run. Every 1k will be decorated with a different Christmas theme and participants are encouraged to dress in festive outfits and sing Christmas carols while walking or running along the path. Registration is $20. Proceeds will go to the New Life Kids Ministry at New Life Church in Ann Arbor. This 5k is also dog-friendly, hurray!