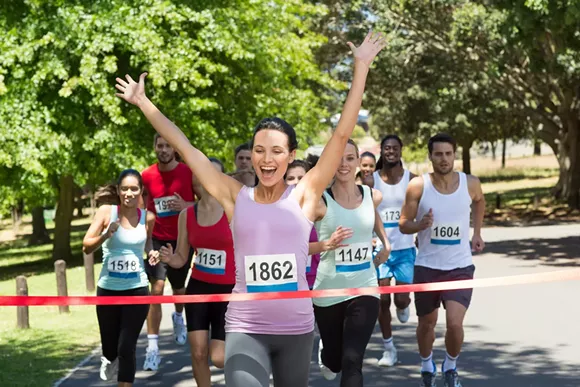 Summer is the season for relaxing and getting some downtime. For some, however, it's the season for running. As in marathons and other exercise-related activities, and while these people
usually
sometimes frighten us, it's not the worst idea to get out and get active when we're not buried in snow.
We know what you're thinking, dude, I smoke a pack a day, my lungs are totes not having this running shit, to which we say YES YOU CAN. Because hey, what's more badass than someone who can run a 5k for fun
and
smoke a pack a day? (Nothing, that's what.)
Here's a rundown of 12 runs coming up this summer that offer you a bit more inspiration to get moving than just running for running's sake — because let's be honest,
who does that?
A few are in support of great causes, some have obstacles, others allow participants to wear costumes, and of course, there are a few that reward finishers with booze. After all, nothing says 'I just finished a 5k' like a refreshing, cold glass of alcohol and commemorative t-shirt.
And now, the list.
Beat the Grandma
, Grand Rapids
Saturday, 6/18
It is quite far away from the metro Detroit area, but we loved the concept so we're including it. It's a free country! Open to all ages, participants are encouraged to dress like grandma and race against "Real Grandmas," who get a handicapped head start. The race is limited to 300 runners and finishers are treated to Grandma's freshly baked cookies. Who's Grandma? Hard to say. The 5k starts at 9 a.m. Early registration is $15. Day of registration is $20.
The Great Beer Run
, Northville
Saturday, 6/25
Will run for booze. This 5k is a part of Northville's 2nd annual Great Lakes Food Fest. Starting at 5 p.m., runners are motivated to run for the sole purpose of drinking an ice cold beer one they cross the finish line. Participants will receive beer, a custom bottle opener finisher's medal, and a commemorative pint glass. Registration is $45 for early birds and $50 day-of. Proceeds will benefit Handy Hearts.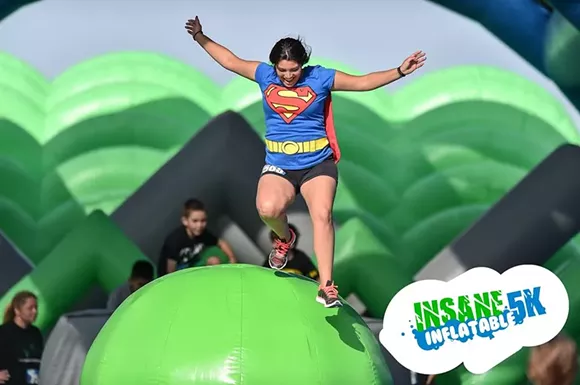 Insane Inflatable 5K
, several locations
Various dates
Think 5k meets
Wipeout
(remember that show?). Due to the popularity of this 5k, there are multiple dates and locations. It's quite self-explanatory. The Insane Inflatable 5k involves a variety of inflatable obstacles that participants have the option of running through. The whole purpose is to have a great time with family, friends, coworkers, etc. Tickets start at $57. All Access Passes are $100 and include $20 of merchandise credit. All proceeds benefit the American Cancer Society.