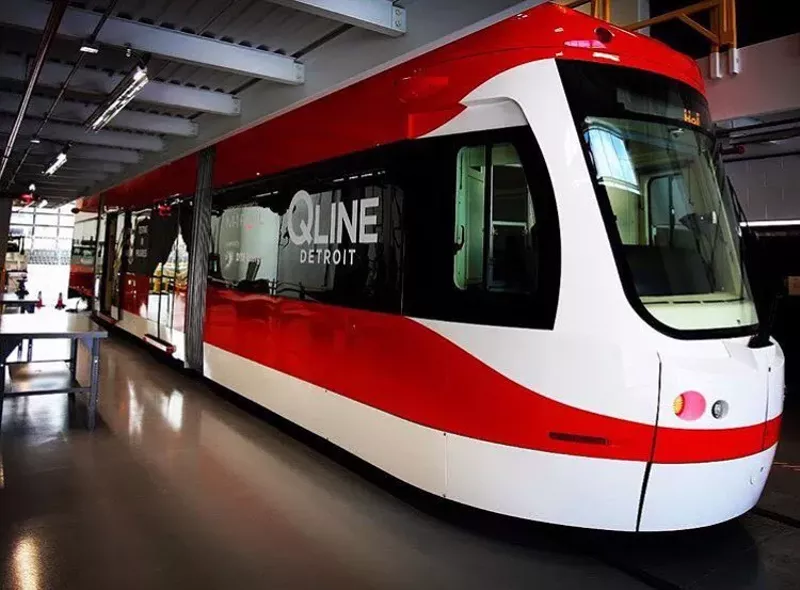 It was
reported yesterday
that the QLine (which opens in 9 days) takes just under 25 minutes to complete the full 3 miles of track in Detroit — starting from the northern-most stop in New Center all the way to the heart of downtown.
Granted, every person that rides the QLine won't be making the full 3 mile trek every single ride, but for people who plan to park their car in New Center and take the streetcar down to work or a sporting event will have to accommodate another half hour to their commute.
The not-so-fantastic travel time has brought up the question of whether riding the QLine will be even worth it when the bus, riding a bike, or even taking an Uber will take way less time than the streetcar. You know what else would take less time than riding the QLine? Turns out, a ton of things. That's why we complied a list of things you can do that will take a hell of a lot less time than traveling 3 miles in 25 minutes.
1. Traveling almost anywhere in metro Detroit on a freeway:
We are called the Motor City after all and our highways (usually) get us places fairly quickly. You can travel from Southern Macomb and Oakland counties to downtown Detroit in a solid 25 minutes on the freeway.
2. Grab lunch at a Coney Island:
If you're eating lunch at a Coney Island for longer than 25 minutes that means either the kitchen is having a moment on you're chatting with your lunch date. Coney Islands are designed to get you in and out — the QLine, not so much.
3. Watch an episode of Parks & Recreation on Netflix:
In fact, you could pause the episode, use the bathroom, and still finish the show in a shorter amount of time than taking the QLine.
4. Bake a batch of cupcakes:
Or brownies. Or cookies. Or anything, really.
5. Wait in line for a food truck in Campus Martius in the middle of summer:
Those food truck lines can be pretty long, but you're definitely not waiting 25 minutes for the Mac Shack.
6. Catch up with an old friend from college:
It's nice to check in with an old friend from your past who you still semi-care about, but you definitely don't want to let that conversation go over 25 minutes. Keep it short and sweet.
7. Shop at Eastern Market:
Once you eventually find a parking spot in the market (and assuming it's not Flower Day), you can get in and out of that baby in 20 minutes or less.
8. Wait for Jimmy Johns delivery:
It's freaky fast.
9. Ride your bike down the Dequindre Cut:
And if you can run an 8-minute mile, you could probably beat the QLine to downtown!
10. Have sex:
According to
this 2008 report,
"satisfactory sexual intercourse" takes 3 to 13 minutes. We're not telling you to have sex on the QLine — please, don't have sex on the QLine — but if you did, you'd have plenty of time.